The Gallinara Island Regional Nature Reserve is a marine protected area due to its pristine habitat and of inestimable historical, environmental and cultural value.
Being privately owned, it cannot be visited.
Mooring in the island is allowed with the following restrictions: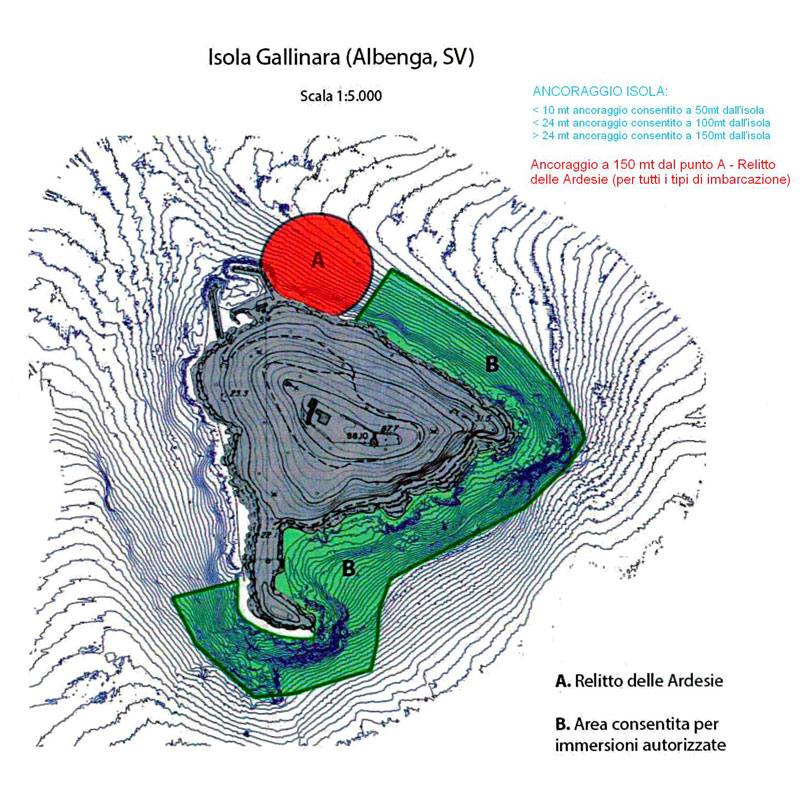 According to legend, San Martino, bishop of Tours, sheltered himself on the Gallinara island, he took refuge in a cave facing the open sea, which still today carries his name.
The island probably hosted hermits. In 500 AD a Benedictine monastery was established, while during the eighth century the monks transformed the island into the seat of a powerful abbey, which expanded its possessions also on the mainland.
Between the 10th and 12th centuries the monastery reached the pinnacle of its prosperity and, thanks to important donations, it acquired substantial properties not only in Western Liguria, but also in France and Spain. Then it declined and in 1473, the abbey was given in commendam. After almost four centuries, title and rights passed to the Diocese of Albenga and in 1866 the bishop Raffaele Biale gave the Gallinaria to private.
The island cannot be visited, but you can see the sixteenth-century tower, built by the Genoese; several times the manor house expanded and remodeled to incorporate the remains of the ancient monastery and the early twentieth century church in neo-Romanesque style.
Still private, since 1989 the island has been included in the system of protected areas of the Liguria Region.
However, one can explore its spectacular seabed, which have returned numerous archaeological finds of Roman times, present at the Archaeological Museum of Albenga, and admire fascinating animals and plant species of great naturalistic interest.